Embed a View
When people describe Illinois as being flat, what exactly do they mean? What is flat? Is there a way to measure flatness? In fact, there are two ways flatness can be measured. 1) It can be measured by the amount of relief, defined here as the vertical difference in elevation between the summits and the lowlands of a given region. 2) It can be measured by the average slope, which is measured with the equation (rise/run) x 100.
Because there are two ways to measure flatness, there are four possible combinations of slope and relief, as illustrated in the following example profiles: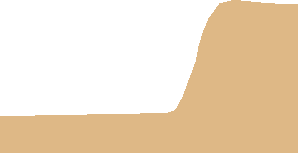 Low relief and low average slope High relief and low average slope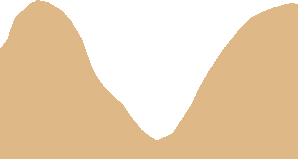 Low relief and high average slope High relief and high average slope
The landscape of Illinois resulted from the action of glaciers, streams, rivers, and wind. Glaciers eroded the previously existing landscape, and deposited the material elsewhere. Glacial moraines account for many of the high places in Illinois but the highest point in Illinois is a bedrock exposure in an area the glaciers never reached. The low places are generally in the river and stream valleys of the state and the lowest point in the state is at the southern tip, where the Ohio and Mississippi Rivers meet. The following list of county names contains links that will give you much more information about the specific county.
| County | Area | Total Relief | Percent Slope |
| --- | --- | --- | --- |
| Adams | 861.86 square miles | 395 feet | 1.41% |
| Alexander | 250.75 square miles | 530 feet | 1.97% |
| Bond | 378.66 square miles | 320 feet | 0.93% |
| Boone | 279.87 square miles | 325 feet | 1.07% |
| Brown | 303.95 square miles | 385 feet | 2.13% |
| Bureau | 865.96 square miles | 500 feet | 1.23% |
| Calhoun | 280.66 square miles | 395 feet | 3.55% |
| Carroll | 462.70 square miles | 475 feet | 2.54% |
| Cass | 379.55 square miles | 260 feet | 0.96% |
| Champaign | 987.74 square miles | 230 feet | 0.50% |
| Christian | 707.56 square miles | 240 feet | 0.50% |
| Clark | 499.36 square miles | 305 feet | 1.14% |
| Clay | 464.22 square miles | 225 feet | 0.68% |
| Clinton | 497.76 square miles | 210 feet | 0.72% |
| Coles | 504.87 square miles | 230 feet | 0.84% |
| Cook | 949.20 square miles | 370 feet | 0.64% |
| Crawford | 440.97 square miles | 230 feet | 0.91% |
| Cumberland | 342.94 square miles | 170 feet | 0.73% |
| DeKalb | 629.22 square miles | 310 feet | 0.74% |
| Dewitt | 400.71 square miles | 206 feet | 0.63% |
| Douglas | 412.83 square miles | 100 feet | 0.40% |
| Du Page | 333.51 square miles | 240 feet | 0.88% |
| Edgar | 616.99 square miles | 325 feet | 0.79% |
| Edwards | 220.38 square miles | 190 feet | 1.21% |
| Effingham | 474.92 square miles | 230 feet | 0.75% |
| Fayette | 717.64 square miles | 260 feet | 0.87% |
| Ford | 481.40 square miles | 215 feet | 0.54% |
| Franklin | 427.09 square miles | 254 feet | 0.85% |
| Fulton | 873.68 square miles | 345 feet | 1.91% |
| Gallatin | 324.70 square miles | 520 feet | 1.36% |
| Greene | 541.04 square miles | 270 feet | 1.36% |
| Grundy | 426.49 square miles | 190 feet | 0.54% |
| Hamilton | 431.24 square miles | 280 feet | 1.07% |
| Hancock | 805.69 square miles | 270 feet | 1.17% |
| Hardin | 179.48 square miles | 530 feet | 3.61% |
| Henderson | 391.97 square miles | 282 feet | 1.04% |
| Henderson | 817.22 square miles | 315 feet | 1.11% |
| Iroquois | 1108.09 square miles | 215 feet | 0.44% |
| Jackson | 599.01 square miles | 417 feet | 2.25% |
| Jasper | 492.09 square miles | 180 feet | 0.65% |
| Jefferson | 577.55 square miles | 220 feet | 0.95% |
| Jersey | 373.43 square miles | 465 feet | 2.17% |
| Jo Daviess | 613.63 square miles | 645 feet | 4.25% |
| Johnson | 345.03 square miles | 520 feet | 3.01% |
| Kane | 519.67 square miles | 445 feet | 1.06% |
| Kankakee | 674.62 square miles | 190 feet | 0.55% |
| Kendall | 319.42 square miles | 170 feet | 0.89% |
| Knox | 712.37 square miles | 350 feet | 1.33% |
| La Salle | 1137.41 square miles | 465 feet | 1.03% |
| Lake | 467.18 square miles | 377 feet | 1.03% |
| Lawrence | 369.94 square miles | 235 feet | 0.84% |
| Lee | 722.21 square miles | 345 feet | 0.95% |
| Livingston | 1035.63 square miles | 245 feet | 0.52% |
| Logan | 612.32 square miles | 261 feet | 0.67% |
| Macon | 579.62 square miles | 185 feet | 0.63% |
| Macoupin | 857.93 square miles | 210 feet | 0.86% |
| Madison | 732.09 square miles | 260 feet | 0.93% |
| Marion | 569.69 square miles | 230 feet | 0.84% |
| Marshall | 395.01 square miles | 430 feet | 1.47% |
| Mason | 557.44 square miles | 295 feet | 0.54% |
| Massac | 239.30 square miles | 290 feet | 1.26% |
| McDonough | 583.92 square miles | 300 feet | 1.13% |
| McHenry | 606.12 square miles | 459 feet | 1.24% |
| McLean | 1174.05 square miles | 350 feet | 0.75% |
| Menard | 311.94 square miles | 185 feet | 0.95% |
| Mercer | 562.12 square miles | 290 feet | 1.35% |
| Monroe | 393.49 square miles | 425 feet | 1.74% |
| Montgomery | 701.92 square miles | 257 feet | 0.84% |
| Morgan | 566.72 square miles | 275 feet | 0.92% |
| Moultrie | 340.35 square miles | 170 feet | 0.55% |
| Ogle | 757.12 square miles | 370 feet | 1.71% |
| Peoria | 623.69 square miles | 410 feet | 1.82% |
| Perry | 442.30 square miles | 210 feet | 0.73% |
| Piatt | 434.62 square miles | 200 feet | 0.46% |
| Pike | 837.40 square miles | 455 feet | 1.90% |
| Pope | 370.46 square miles | 749 feet | 3.76% |
| Pope | 201.20 square miles | 220 feet | 0.96% |
| Putnam | 170.51 square miles | 300 feet | 1.77% |
| Randolph | 588.68 square miles | 380 feet | 1.67% |
| Richland | 358.02 square miles | 210 feet | 0.77% |
| Rock Island | 447.32 square miles | 270 feet | 1.50% |
| Saline | 382.92 square miles | 660 feet | 1.51% |
| Sangamon | 867.37 square miles | 210 feet | 0.62% |
| Schuyler | 436.62 square miles | 320 feet | 2.00% |
| Scott | 250.06 square miles | 270 feet | 1.32% |
| Shelby | 759.95 square miles | 324 feet | 0.88% |
| St. Clair | 666.66 square miles | 340 feet | 0.99% |
| Stark | 285.67 square miles | 275 feet | 0.95% |
| Stephenson | 560.06 square miles | 470 feet | 2.29% |
| Tazewell | 650.28 square miles | 390 feet | 1.22% |
| Union | 417.84 square miles | 680 feet | 3.15% |
| Vermilion | 891.67 square miles | 300 feet | 0.89% |
| Wabash | 225.04 square miles | 230 feet | 0.96% |
| Warren | 557.82 square miles | 198 feet | 0.71% |
| Warren | 538.32 square miles | 240 feet | 0.96% |
| Washington | 707.76 square miles | 240 feet | 0.79% |
| White | 496.49 square miles | 240 feet | 0.91% |
| Whiteside | 691.50 square miles | 300 feet | 0.82% |
| Will | 841.22 square miles | 320 feet | 0.84% |
| Williamson | 439.51 square miles | 330 feet | 1.19% |
| Winnebago | 515.20 square miles | 300 feet | 1.73% |
| Woodford | 537.33 square miles | 400 feet | 1.19% |